Biography
Michelle Yeoh Choo-Kheng is a Hong Kong-based Malaysian actress and dancer, well known for performing her own stunts in the action films that brought her to fame in the early 1990s. Born in Ipoh, Malaysia, she is based in Hong Kong and was chosen by People magazine as one of the 50 Most Beautiful People in the World in 1997. She is best known in the Western world for her roles in the 1997 James Bond film Tomorrow Never Dies, playing Wai Lin, and the multiple Academy Award-winning Chinese action film Crouching Tiger, Hidden Dragon, for which she was nominated the BAFTA for "Best Actress". In 2008, the film critic website Rotten Tomatoes ranked her the greatest action heroine of all time. She is credited as Michelle Khan in some of her earlier films. This alias was chosen by the D&B studio who thought it might be more marketable to international and western audiences. Yeoh later preferred using her real name. Description above from the Wikipedia article Michelle Yeoh, licensed under CC-BY-SA, full list of contributors on Wikipedia.
Photo Gallery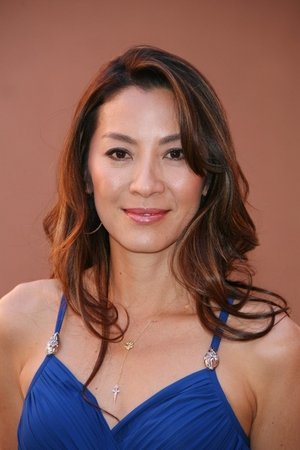 Filmography
Movie Name
Release Date

Two warriors in pursuit of a stolen sword and a notorious fugitive are led to an impetuous, physically-skilled, teenage nobleman's daughter, who is at a crossroads in her life.

2000-12-08

A deranged media mogul is staging international incidents to pit the world's superpowers against each other. Now 007 must take on this evil mastermind in an adrenaline-charged battle to end his reign of terror and prevent global pandemonium.

1997-12-12

Fifty years into the future, the sun is dying, and Earth is threatened by arctic temperatures. A team of astronauts is sent to revive the Sun — but the mission fails. Seven years later, a new team is sent to finish the mission as mankind's last hope.

2007-06-30

Archaeologist Rick O'Connell travels to China, pitting him against an emperor from the 2,000-year-old Han dynasty who's returned from the dead to pursue a quest for world domination. This time, O'Connell enlists the help of his wife and son to quash the so-called 'Dragon Emperor' and his abuse of supernatural power.

2008-07-31

A sweeping romantic epic set in Japan in the years before World War II, a penniless Japanese child is torn from her family to work as a maid in a geisha house.

2005-12-06

A Hong Kong detective teams up with his female Red Chinese counterpart to stop a Chinese drug czar.

1992-07-25

A soldier's unexpected arrival affects two women's simple existence.

2008-04-08

A sister and brother, the last heirs of a family of acrobats, are called upon by a Buddhist monk sect to retrieve an artifact that their ancestors have protected throughout the ages.

2002-08-01

Martial arts expert Wing Chun battles bandits in this magical film that provides as many laughs as it does wallops. Besides horse thieves, Wing Chun must deal with the men around her who simply can't handle a strong, independent woman. Ultimately, she must dish out "lessons" again and again and again until the respect for her remarkable skills is finally won.

1994-03-24

In Babylon A.D Vin Diesel stars as a veteran-turned-mercenary who is hired to deliver a package from the ravages of post-apocalyptic Eastern Europe to a destination in the teeming megalopolis of New York City. The "package" is a mysterious young woman with a secret.

2008-08-29

Through vintage film clips of past Bond movie epics, and with the participation of several former "Bond Girls" as interviewees (among them Dr. No's Ursula Andress and Diamonds Are Forever's Jill St. John), the documentary traced the evolution of the typical James Bond heroine from decorative damsel in distress to gutsy (but still decorative) participant in the action.

2002-11-06

About young British journalist, George Hogg, who with the assistance of a courageous Australian nurse, saves a group of orphaned children during the Japanese occupation of China in 1937.

2008-07-03

Dynamo Michelle Khan stars as a loyalist who attempts to keep the King's empire from being overthrown by a revolutionary group. Top fight action.

1993-01-16

Michelle Yeoh plays Lulu Wong, a much-idolised rock star and philanthropist by day, and a super heroine, Silver Hawk, who fights injustice in skin-tight black leather outfit as her alter-ego. Richie Ren plays police detective Richman, who has an uncanny instinct and incredible wit, but he hates Silver Hawk for being always two steps ahead of the police. Both of them, however join hands to fight a baddie, Wolfe (Luke Goss) who wants to dominate the world through a special microchip in mobile phones which will broadcast subliminal message to users. Directed by cinematographer-turned-director Jingle Ma.

2004-01-15

The Soong family was a political dynasty in China that reached the highest levels of power. This film follows the lives of the three Soong daughters, who were educated in America and returned to China. Ai-ling (the oldest) married a wealthy and powerful businessman. Ching-ling married Sun Yat-sen, the revolutionary founder of modern China. Mei-ling (the youngest) married Chiang Kai-shek, China's leader during World War II. The sisters captured the world's fascination for their brilliant marriages and their strong influence on their nation.

1997-01-01

Su Qi-Er, a wealthy man living during the Qing Dynasty who loses his fortune and reputation as a result of a conspiracy against him. After being forced out onto the streets, Su dedicates his life to martial arts and reemerges as a patriotic hero known as the "King of Beggars."

2011-05-13

Tung and Ching were both adopted by the same master. But later Ching was abducted by the eunuch-Chan. Ching grew up and became scientist Li's assistant and Tung married officer Lau. Chat had escaped from Chan at 15 and became a thief-catcher. During Chan's intrigue the trio united to become "The heroines of the East".

1993-02-12

Michelle Yeoh stars in this rousing action adventure in the tradition of "Raiders of the Lost Ark." Michelle is a daredevil airplane pilot/spy who fights against the occupying Japanese forces in World War II China. Her latest, toughest mission: To rescue the ruler of the city of Kaal from the hands of a ruthless Japanese general (Matsui Tetsuya) and his advancing army. Filled with extraordinary fights and Michelle's trademark stunts (including her use of a bullwhip in the style of Indiana Jones) and literally nonstop action, Magnificent Warriors is one magnificent crowd-pleaser for everyone!

1987-04-16

Set in ancient China, Zeng Jing is a skilled assassin who finds herself in possession of a mystical Buddhist monk's remains. She begins a quest to return the remains to its rightful resting place, and thus places herself in mortal danger because a team of assassins is in a deadly pursuit to possess the remains which holds an ancient power-wielding secret.

2010-09-01

Michelle Yip of the Hong Kong police is a mild-mannered Kung Fu expert; Michael Wong from air security is happy-go-lucky, stuck on himself, constantly talking, and smitten by her; Yamamoto is quiet, hard-boiled, leaving the Tokyo police to spend time with his wife and daughter. They form an alliance when they foil a hijacking on a plane flying a mob prisoner from Tokyo to Hong Kong. The mobster and his would-be rescuer die; this sets off two avengers who were their blood brothers. Our three cops become the targets. A high-speed chase, a car bomb, the destruction of a nightclub, a spectacular suicide, dead bystanders, and a flying coffin litter the landscape by the end.

1986-01-01

On the eve of her Japanese wedding, Hitomi (Takako Tokiwa) loses her fiance, Tatsuya, to a car accident. She travels to Hong Kong seeking solace and meets undercover cop Karbo -- a dead ringer for Tatsuya. The duo is forced to take it on the lam when a corrupt colleague frames Karbo, and Hitomi soon finds herself torn between her love for Tatsuya and her blossoming feelings for her fellow fugitive. Leslie Cheung plays Tatsuya and Karbo.

1999-01-01

Jackie Chan is one of the world's biggest action stars, famed for his wacky sense of humor, remarkable martial arts techniques, and willingness to perform incredible stunts without the use of doubles -- or a net. This video takes a personal look at Chan as he works on screen projects in Hollywood and Beijing and candidly discusses his life and work.

1998-07-17

Not since the great Bruce Lee has a Chinese martial artist taken Hollywood by storm. Leaping out of dire poverty and obscurity, Jackie Chan has become the sensational international superstar of mayhem and merriment! This presentation of Chan's career covers his work with the legendary Bruce Lee, his struggle against typecasting in the Bruce Lee mold, and the resounding success of his breakthrough movies mixing amazing acrobatic artistry with brilliant comic ability.

2002-12-10

Asprin (Mang Hoi) and Strepsil (John Shum), two petty thieves who inadvertently become involved in a murder case when they steal items belonging to a murdered man. The man had hidden an important microfilm in his passport, which the thieves pass onto a forger friend Panadol (Tsui Hark). Inspector Ng (Michelle Yeoh) is assigned to the case, along with Inspector Morris (Cynthia Rothrock) from Scotland Yard! The investigation leads the cops to the bumbling crooks and soon they are on Triad leader Tin's (James Tien) tail, he will stop at nothing to get the incriminating film back and with his hitman and bodyguard (Dick Wei) at his side, he proves too much for the inspectors to catch using legal means, in frustration they give up their badges and go after Tin alone.

1985-01-01

Wonder Seven, a secret group of well-trained government agents in China, has been assigned a case of a computer disc robbery. At first everything seems to go smooth, when a disastrous national conspiracy unravels. Seven gets caught and are forced to strike back. Meanwhile, the leader of Seven, Yip, develops a forbidden romance with a mysterious Japanese lady...

1994-04-01

Po is now living his dream as The Dragon Warrior, protecting the Valley of Peace alongside his friends and fellow kung fu masters, The Furious Five - Tigress, Crane, Mantis, Viper and Monkey. But Po's new life of awesomeness is threatened by the emergence of a formidable villain, who plans to use a secret, unstoppable weapon to conquer China and destroy kung fu. It is up to Po and The Furious Five to journey across China to face this threat and vanquish it. But how can Po stop a weapon that can stop kung fu? He must look to his past and uncover the secrets of his mysterious origins; only then will he be able to unlock the strength he needs to succeed.

2011-05-25

In their second film compilation following their 'Boogeymen:The Killer Compilation' series, FlixMix takes you into the history of action movies from Hollywood to Hong Kong cinema that spans a 20-year period. This one features action scenes from 16 action-packed movies featuring action gurus, Jet Li, Michelle Yeoh, Chow Yun-Fat, Jackie Chan, Jean-Claude Van Damme and many more.

2002-04-16

During the dinasty Ming, Mo Kake takes a invincibility drink to defeat the best japanese warrior Super Sword. Three years later, the samourai is back, decided to take the power of 7 maidens, to defeat Mo Kake.

1993-06-03

Set some time after the The Heroic Trio (1993) the city has been devastated by nuclear attack. An evil deformed villain controls the city's scarce water supply, exerting influence over both a popular leader and a militarist colonel. The trio of Chat the Thief catcher, Ching and Wonder Woman (along with her young daughter) have to avert a military takeover and find clean headwaters to save the city.

1993-09-30

The story of Aung San Suu Kyi as she becomes the core of Burma's democracy movement, and her relationship with her husband, writer Michael Aris.

2012-04-10

A few years in the life of Ah Kam, starting with her joining action director Master Tung's team of regulars.

1996-10-10

Sammo (Bumbo) and George Lam (Owl) are partners in crime and they scam some triad big shot out of a load of money and decide to retire. Three years later they both receive letters from Stanley Fung, in which he informs them that he has proof of all their criminal activity and unless they do exactly what he says–he will turn it over to the cops. Fung is an ex-cop himself and is trying to get the goods on the same triad leader that Sammo and George scammed.

1984-12-12

Fun-loving young Shaolin initiates get the better of two bungling assassins hired to chop off the right hand of their crochety master, who commands magical kung-fu powers.

1994-12-04

Millionaire playgirl Ling Young (Michelle Yeoh) spends her free time staging elaborate heists -- not for the money but for the thrill of getting away with it. As part of her latest plan, Ling recruits a team of professionals from around the world to steal billions from an armored car on a Hong Kong highway. Lucky for Ling, the insurance man (George Lam) hired to bring her to justice is too smitten to stay objective.

1987-08-20

A story of lost love, young love, a legendary sword and one last opportunity at redemption.

2016-02-26

The third installment in the Lucky Stars series, following Winners and Sinners (1983) and My Lucky Stars (1985)... The team are released from prison to play detective in order to stop a ruthless gang from ruining their reputations, taking their lives, and that of a key witness in an upcoming trial. They must battle their way through and with the help of Muscles, take down the bad guys.

1985-08-15

As a crime wave sweeps through Hong Kong, the police call Jessica Yang (Yeoh), a rising star in the ranks, to help stop a notorious gang of thieves! What Jessica doesn't realize is that her boyfriend - recently discharged from the force - is the leader of this ruthless crime ring!

1996-08-16

The sequel of "Top Fighter" focuses in the importance of the women in the martial-arts movies, from her first characters as "hero's girl" until becoming superstars by themselves. A voyage by the times and the most famous beauty fighters from this genre: Angela Mao, Michelle Yeoh, Cynthia Rothrock and much more.

1998-01-01

Arthur Bishop thought he had put his murderous past behind him when his most formidable foe kidnaps the love of his life. Now he is forced to travel the globe to complete three impossible assassinations, and do what he does best, make them look like accidents.

2016-08-26

Falsely accused for cheating in a martial arts competition, two boyhood friends are banished from their Shaolin Temple and go their separate ways. As adults, they join opposing sides in a civil war. When one betrays the other, they settle their differences mano-a-mano.

1993-11-18

After being defeated by Ip Man, Cheung Tin Chi is attempting to keep a low profile. While going about his business, he gets into a fight with a foreigner by the name of Davidson, who is a big boss behind the bar district. Tin Chi fights hard with Wing Chun and earns respect.

2019-04-12

A corporate risk-management consultant must determine whether or not to terminate an artificial being's life that was made in a laboratory environment.

2016-09-02

The story revolves around a scrappy young dog who fights to save a town from becoming the litter box of a nefarious feline warlord.

Hao's Singaporean restaurant is in danger of going out of business. Hao's grandson, Mark, secretly travels to Shanghai to attend a cooking competition despite his grandfather's wishes for him to become an engineer. Mark takes the place of a contestant who did not show up and must now impress the host, Julia Lee, and her chef husband, David Chen. Chen, who is originally from Singapore and misses his family, eventually learns he is Mark's father.

2013-10-10

The Guardians must fight to keep their newfound family together as they unravel the mysteries of Peter Quill's true parentage.

2017-05-05

An American-born Chinese economics professor accompanies her boyfriend to Singapore for his best friend's wedding, only to get thrust into the lives of Asia's rich and famous.

2018-08-15

Jackie Chan - From Stuntman to Superstar is a documentary on Jackie Chan.

1996-08-30

This upcoming fantasy epic is based on the Chinese mythological figure, Nezha, an unruly child-god who loves causing trouble.

2018-11-01

Special honoring the grand masters of the martial arts with guest stars from film and television, music performances, live demonstrations, competitions and tributes to Jackie Chan, Bennie "The Jet" Urquidez, Cynthia Rothrock, Billy Blanks, Ernie Reyes Sr., and Shaka Zulu.

1998-08-18

Documentary and making of the movie Babylon AD

2011-11-16

Yves Montmayeur takes Crouching Tiger, Hidden Dragon as the starting point for his study of the new female warrior in Asian pop culture. From Beijing to Tokyo and Taiwan, he went to meet with the most iconic muses of this new trend, including Michelle Yeoh, Zhang Ziyi, Shu Qi, and Asami.

2016-07-03

Corto Maltese has been hired by a Chinese revolutionary group to hijack the armored train of the Russian Emperor Czar Nicolas II that is transporting his gold from St. Petersburg to Vladivostok with multiple schemes to capture this priceless treasure.

2019-12-31

Third installment in the "Crazy Rich Asians" trilogy.

2023-12-22

In the assassin genre with a story that spans multiple generations.